I run clinics from Skelton, just a couple of miles outside York off the A19 (near to Clifton Moor). Below is a picture of my clinic room: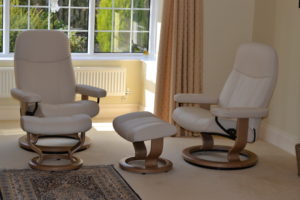 Appointments last for 50 minutes. Clinical psychology appointments tend to be more expensive than counselling and some other types of psychotherapy. This is because clinical psychologists have a long training (a 3 year undergraduate degree followed by a 3 year postgraduate clinical training). All clinical psychologists are trained in a variety of different therapies. In practice, this means that we can choose a therapeutic approach to suit you and the difficulties you are experiencing, rather than taking a"one size fits all" approach.
The first appointment is called a psychological assessment appointment. I will go through some standard questions and let you know about issues such as confidentiality and data protection. Then I will ask you to tell me what has been happening for you. At the end of the appointment we can decide together whether psychological therapy will be helpful for you and the kinds of approaches we might think about using together.
The length of therapy varies from person to person. Some people feel better very quickly and only need a few sessions. Other prefer a long approach where they can work on a range of issues over time. For most people, I would suggest planning for around 10 sessions of input.
We can meet on a weekly basis or less frequently, depending on what works for you. I often find that people like to meet more frequently for the initial sessions and then less frequently after they have got going. If we meet on a fortnightly basis, for example, it allows you to let the work of the session sink in and to try any new approaches we have discussed in the sessions.
Please use the contact me form to ask any specific questions you have or to enquire about booking an appointment.